An introduction.
As our company continues to grow and expand, our team dynamic has followed suit. Currently women hold the reins, making up 70% of our international team, 50% of which hold a manager level role or higher. In the corporate services industry, having a female-majority team is not always commonplace, especially when it comes to holding key leadership positions. To celebrate International Women's Month and our own journey, we asked a few of our international women and team members to reflect on the unique perspectives that our culturally diverse workforce brings to Amesto Global.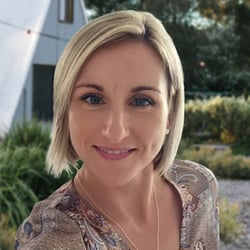 Maryse Sheehan
Compliance & Corporate Secretarial Manager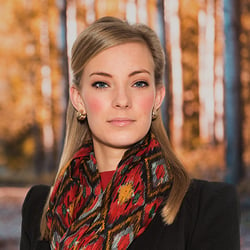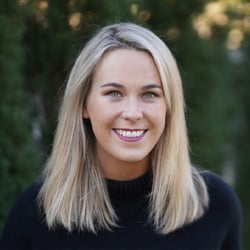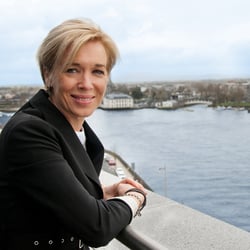 The interview.
Looking at early career beginnings, many of our female team members were working in completely different industries prior to entering corporate services. Finding an attraction in structure, people and a core level of professionalism, many landed in this industry and never looked back. These different backgrounds and experiences helped shape the independent, strategic mindset that is central to our daily business operations.
Q: Where did your career start and what led you to your current career path?
Maryse: Considering I have a degree in Languages and Cultural Studies, my role in regulatory compliance and corporate secretarial services is not what I thought I would be doing! I landed in the Financial Services industry after university and this is where I grew my career until I made the move to Corporate Services after nearly 20 years. I'm naturally an organised and structured person so this sector suited me for roles that brought a certain uniformity and stability.
Sims: I came into this industry nearly unintentionally; I got my start in corporate services after meeting a few people who really inspired me, and I was very interested in learning more about the finance industry in New York. Once I began, I knew I had found what I wanted to focus on for the rest of my career. At the end of the day, we are in the people business, which resonates with both my personal interests and background experience in other previous roles.
Kate: I knew from an early age that I wanted to work in the financial world. I worked in Corporate Finance / Financial Advisory Services with Deloitte for 15 years before moving to Amesto Global. When I saw the role for Client Services Director with Amesto Global, it instantly sparked my interest as my skillset is well-suited to managing and coaching a team, developing new strategies, and ensuring that clients receive exceptional service at every touch point with the company. Another thing that attracted me to this role in Amesto Global, is the strong mentor / role model that I will have in Oonagh Hayes.
Oonagh: I stumbled upon being in corporate services. I went to school originally for science, focusing my studies on Chemistry and Physics. I had a knack for numbers and decided to change paths in a very unorthodox way. One summer I was at a local musical and noticed one of the actors was listed as an accountant in the show program. I went to his office and asked for career advice which led me to pursue accounting. I trained at EY initially and eventually moved to corporate services and what I have loved the most about this industry is the continuous interaction with companies that are internationalizing their businesses. There is huge exposure to a variety of industries underpinned with professionalism, an entrepreneurial approach and a dynamic attitude to problem solving.
Having a female-majority team is a completely unintentional hiring effort, something that happened organically over the past five years since our firm's inception. Our Partners made, and continue to make, hiring decisions based on the best candidate for the job. With such a large presence, the women on our team have helped directly shape and contribute to where our company currently stands. They serve as a bridge between different cultures, facilitating communication and understanding between team members and clients from different countries. Partner Ger Holliday comments, "The women on our team are all individually talented, have incredibly high standards with very strong, natural communication ability. They challenge the average way of thinking and encourage the entire team to follow suit."
Q: What unique points of view do the women of Amesto Global bring to the workplace?
Maryse The women of Amesto Global are a perfect balance of innovation, experience and determination to get a job done well. The unique point of view presents itself also as Amesto Global is a new and growing business but behind the scenes there is a wealth of experience in its female work force bringing a stability that isn't always there infast growing companies.
Kate I believe, as in all aspects of life (education, sport, leisure, work), there should be both men and women side by side, as we complement each other. Women are resilient by nature and bring a good degree of emotional intelligence to the workplace.
Sims Our firm has strong female leadership throughout all different levels & teams and most importantly, we are a Partner-led organization with an extremely successful & driven woman at the helm. Oonagh's work ethic and encouraging attitude towards our growth really creates an environment where we all, men & women alike, strive to go the extra mile.
Oonagh The women on our team are a true embodiment the saying "Onwards and Upwards", lifting others along as they go. They are not limited to by the definition of the job and take it to the ultimate degree. They have a can-do attitude that pushes us to go further.
But to say that only women have helped shape our company would be unfair. Making up Amesto Global's workforce are men and women who come from different walks of life. With experiences gained from some of the top accounting, finance, advisory, law and audit firms, among many other service lines, our team possess a highly diversified skillset that enables us to approach complex situations in a collaborative and empathetic way, creating a strong value-add to the clients we service.
Q: How have our team's diverse perspectives contributed to our company's overall growth & success?
Maryse At Amesto Global we know from experience that collectively great things can be achieved by allowing everyone to come to the table, to feel valued and to contribute their professional and personal experience both great and small. We all play a role in Amesto's growth story. Diverse perspectives have enabled Amesto Global to cast its net far wider than its industry peers to develop the bespoke services we provide to our clients, to really hear them and find meaningful solutions for their business to grow in the same way ours has.
Kate Amesto Global is a mixing pot of different nationalities (Irish, American, Dutch, Brazilian, German, Lithuanian) with varied educational and work experience across three locations (Ireland, US, Spain). This multiculturalism broadens our outlook on life and makes us more rounded people to better serve our diverse portfolio of international clients.
Sims Each one of our team members has a different background and brings elements from their past companies that can help us adopt (or even avoid) certain aspects as we grow as a firm. Growing our firm through great people with diverse backgrounds is essential to our success and critical due to the international nature of our business.
Oonagh Everyone on our team brings something unique to the table. It's that combination of bringing your own approach to certain things, that diverse nature whether it's in skillset, intuition, ability to move outside your comfort zone, that whole diversification can lead to a more well-rounded business.
Partner Armin Kirchner adds, "As a Partner/Owner in Amesto Global, it is of personal importance to me that we maintain a diverse and inclusive work culture in which everyone feels welcome, comfortable and respected, regardless of gender, race, culture, orientation, religion etc. Such a work culture also leads to many advantages for managing a firm like ours - an improved and better decision making by people with different backgrounds and perspectives, increased creativity, increased employee engagement plus, importantly, access to a larger talent pool."
Having not only prominent women but also a team rich in backgrounds, educations and nationalities continues to be a key driver to our own growth and expansion. It has helped us draw upon a broader range of experiences and perspectives, sparking creativity and fostering innovation. As the corporate services industry becomes increasingly more commoditized, our team of independent thinkers allows us to approach situations differently, question the status quo and look for solutions that are truly bespoke to our clients' needs.
Conversation moderated by Gabriella Connor, Marketing Associate.